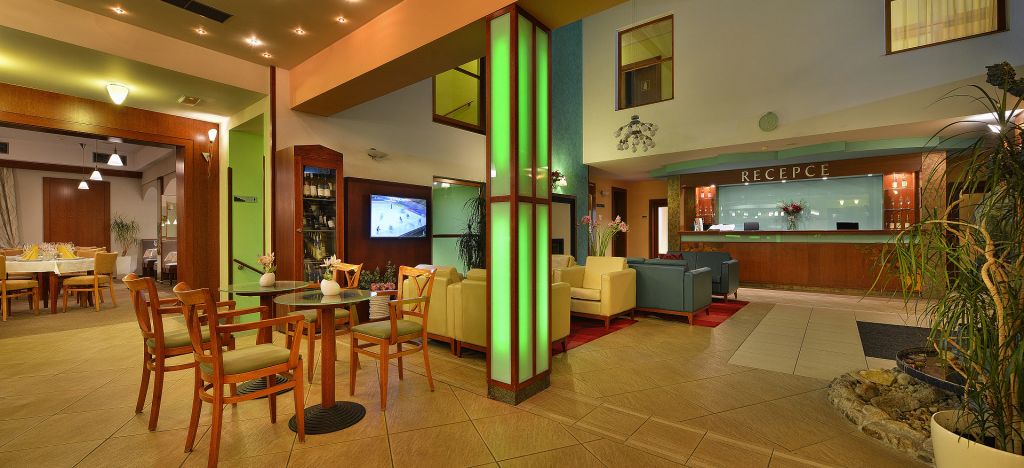 SERVICES
We will gladly fulfil any (im)possible wish you might have.

We want the same thing as you do – to make you comfortable.

We are usually able to satisfy (almost all) our customers wishes, even those beyond our standard services.

In order to make your stay care free, please do not hesitate to ask us for anything you can think of, Happy Star is here to help you.
 
 Accommodation: The hotel offers 54 rooms (108 beds + 49 extra beds), check-in from 15:00 pm, check-out until 10:00 am, indoor swimming pool with whirlpool included.
 Parking: Free enclosed parking with capacity for 99 cars.                                                                         
  Wi-Fi: You can use our Wi-Fi in the sauna, hot tub or at the bar. It is very fast and for free.
  Restaurant: Are you hungry? Would you like breakfast, a snack, lunch, a coffee break, dinner, buffet or barbecue? Not enough? What about different gastronomic experiences, pig roasts, catering outside the hotel, or even biscuits at the front desk 24/7? Nothing is beyond us. Just ask.
  Wine tasting: Wine tasting in our wine bar or wine cellar. Learn how to pair wines with aromas/scents or with chocolate truffles. This is truly experiencing through all your senses!
  Wellness: Indoor swimming pool, hot tub, steam room, hydro massage bath, infrared sauna and body massages. All of these are available in our wellness centre.
  Corporate events: Our new conference hall for up to 120 people. Our big lounge has capacity for 100 people and our small lounge for 30 people. They make ideal venues for corporate events, for both education or entertainment based programmes.
  Families: We have an outdoor children´s playground with a sandbox, slide, trampoline, ropeway and swing, as well as an indoor playground for if it rains.
  Pets: Due to the constant improvement of the services provided and the increase of hygienic standards, we have decided not to keep animals anymore.
  Activities: Tennis court and equipment, bicycles and scooters are available for hire on site (this does not apply to skis). There is no end of walking and hiking opportunities in the surroundings. Darts, billiards, football, skittles and bowling also available on site.